BTT o MTB route - Serra's springs
Circular route that combines parts of forest track with some stretches of paved road surface. Start at Serra's Tourist Information Centre and follow the forest track towards the Castle. From there, continue until you reach the spring of L'Ombria. Keep on the forest track until you get to the CV-310 road and then take it towards Serra. Take the first detour to the right towards the spring of El Llentiscle and the spring of El Poll. While on this track, you will be following some sections of the long-distance path GR-10. Head towards the spring of El Berro and follow the forest track until you reach the spring of La Gota. Right after passing it, turn left and start ascending towards the spring of L'Abella. From there, continue towards the spring of El Marge. Carry on until you pass by the Porta Coeli Charterhouse. There, take the CV-331 road for about 1 km, and then turn to the left to ascend towards the spring of Potrillos. After reaching the spring, continue until you arrive at the col of L'Espartal, where you will start the descent back to Serra.
Remember: Cycling is only allowed on the forest track and at a maximum speed of 30 km/h.

Itinerary circular


Distance: 38 km


Estimated time: 4h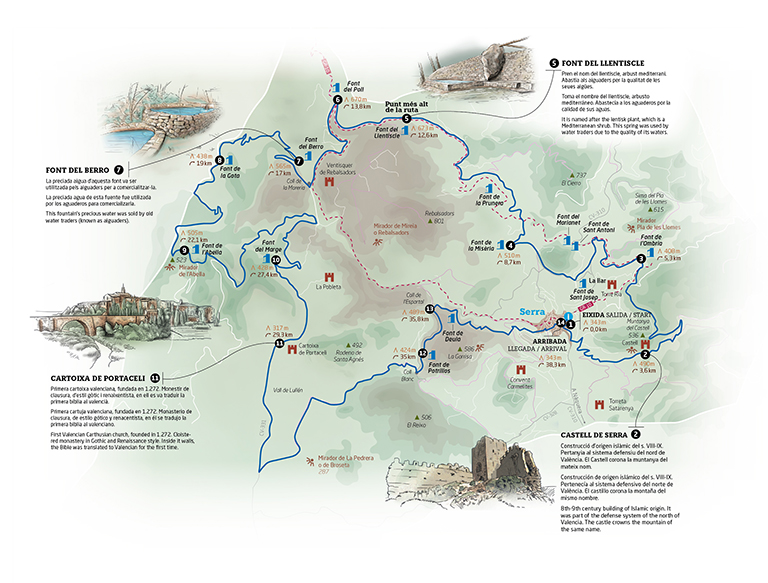 A word of advice:
Take care of nature. Respect it.
Plan you itinerary carefully beforehand. Do not underestimate the possible risks.
No one better than ourselves knows our limits. It is advisable to do itineraries according to our physical shape.
Bring a map, a GPS or a mobile app that works without signal. Your phone battery should be fully charged.
Tell someone where you are going and check the weather forecast.
You should pack you bag with water, some food, extra clothes, a torch and a small first aid kit.
Use a cap and sunscreen.
These itineraries are open during the whole year. In summer, however, it is convenient to avoid peak sun hours.
Save the number for emergencies: 112. In case of emergency, keep calm and call 112.