Rebalsadors (Itinerary 3. Colour mark: red)
This circular itinerary starts at Serra's Town council, it goes across the urban centre following the GR-10 long-distance path, and then continues along La Pobleta Street until the town outskirts. There it takes the forestry road of the Gorrisa mountain. From there, keep on the GR-10 path until you reach the col of La Pobleta, and then go up to the balcony of Rebalsadors. 
Keep on the forestry track until you reach the ventisquer, an old ice house used to storage snow in the past. Retrace your steps back to the geodesic point or triangulation station, and then start to descend until you find the GR-10 route that goes to the spring of Marianet. 
Finally, when you reach the CV-310 road, take the turn to the right to the recreation area of Aliguetes, and come back to the Town council through the Puntal de les Forques.

Route circular


Distance: 12 km


 Estimeted time: 4h


 Climb: 506m
Difficulty: high difficulty due to the drastic climb and the terrain roughness.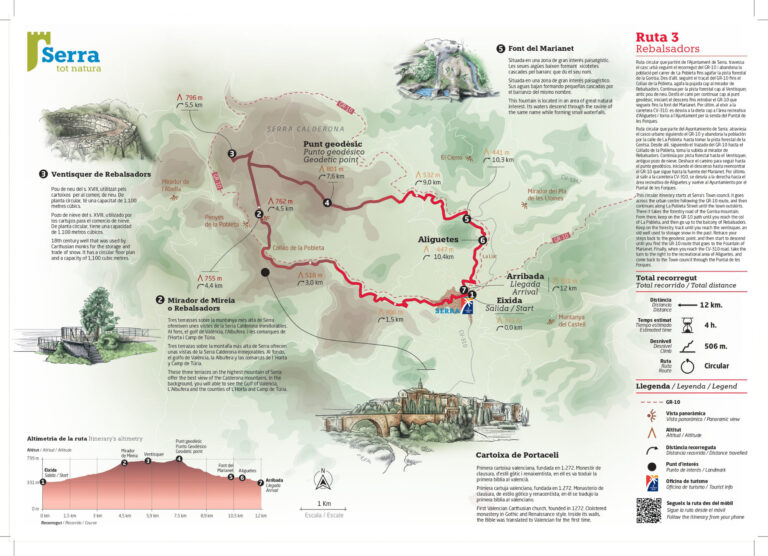 Interesting information:
Viewpoint of Mireia (or Rebalsadors):
these three balconies on the highest mountain of Serra offer the best view of the Calderona mountains. You will able to see the gulf of Valencia, L'Albufera and the counties of L'Horta and Camp de Túria. At the foot of the Rebalsadors mountain, there is the Porta Coeli charterhouse.
Porta Coeli charterhouse:
First Valencian Carthusian church, founded in 1272. It is a cloistered monastery in Gothic and Renaissance style. Inside its walls, the Bible was translated to Valencian for the first time.
Ventisquer de Rebalsadors:
18th century ice house that was used by Carthusian monks for the storage and trade of snow. It has a circular floor plan and a capacity of 1,100 cubic metres.
Spring of Marianet:
this is spring is located in an area of great natural interest. Its waters descend through the gully of the same name while forming small waterfalls.
A word of advice:
Take care of nature. Respect it.
Plan you itinerary carefully beforehand. Do not underestimate the possible risks.
No one better than ourselves knows our limits. It is advisable to do itineraries according to our physical shape.
Bring a map, a GPS or a mobile app that works without signal. Your phone battery should be fully charged.
Tell someone where you are going and check the weather forecast.
You should pack you bag with water, some food, extra clothes, a torch and a small first aid kit.
Use proper shoes, a cap and sunscreen.
These itineraries are open during the whole year. In summer, however, it is convenient to avoid peak sun hours.
Save the number for emergencies: 112. In case of emergency, keep calm and call 112.