Castle (Itinerary 1. Colour mark: green)
This itinerary starts from the Town council and goes across the traditional hortes (crop fields) of Toixima and Ria. Following the GR-10 course, it passes by the tower of Ria. When it reaches the forestry road, the itinerary offers two possibilities to get to Serra's Castle: to the right, the traditional path of El Castell; to the left, the road that will take you to the spring of L'Ombria. Both options lead to the base of the Castle. From there, a steep path will take you to Serra's Castle. 
Follow the forestry road back to town and cross the Pont Nou bridge. Following Montalegre Street, you will be back at the information point.

Itinerary circular


Distance: 7km


 Estimated time: 2h


 Climb: 207m
Difficulty: low, higly recommended for the family.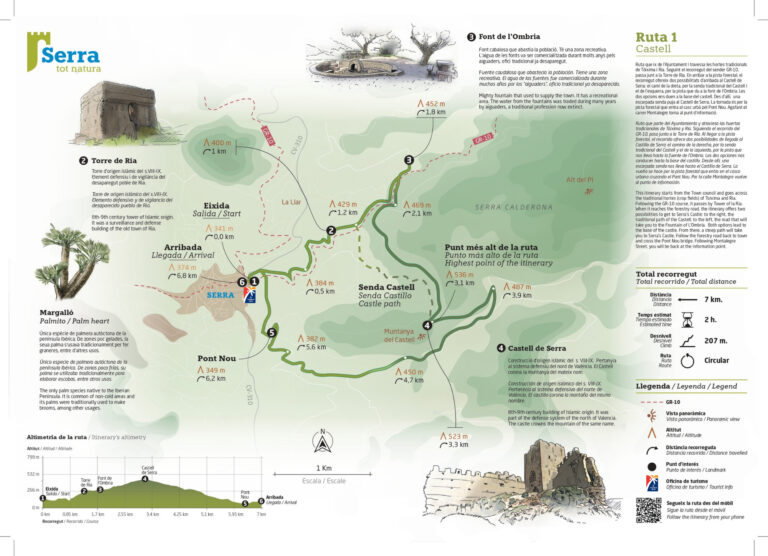 Interesting information:
Tower of Ria: 8th-9th century sentry tower of Islamic origin. It was a surveillance and defence building of the old town of Ria.

Spring of L'Ombria: Mighty spring that used to supply the town with water. It has a recreation area good for a picnic, and to rest. The water from Serra's natural springs was traded during many years by aiguaders, a traditional trade now extinct.

Serra's Castle: 8th-9th century building of Islamic origin. It was part of the defence system of the north of Valencia. The Castle crowns the mountain of the same name.

Margalló (European fan palm): The only palm species native to the Iberian Peninsula. It is common of non-cold areas and its palms were traditionally used to make brooms, baskets, mats… The palm heart is also an edible product.
A word of advice:
Take care of nature. Respect it.
Plan you itinerary carefully beforehand. Do not underestimate the possible risks.
No one better than ourselves knows our limits. It is advisable to do itineraries according to our physical shape.
Bring a map, a GPS or a mobile app that works without signal. Your phone battery should be fully charged.
Tell someone where you are going and check the weather forecast.
You should pack you bag with water, some food, extra clothes, a torch and a small first aid kit.
Use proper shoes, a cap and sunscreen.
These itineraries are open during the whole year. In summer, however, it is convenient to avoid peak sun hours.
Save the number for emergencies: 112. In case of emergency, keep calm and call 112.